According to latest flash estimates from the Urban Redevelopment Authority (URA), Singapore private home prices have risen by 2.9% in the Q1 of 2021, an increase from the previous quarter where prices rose 2.1%.
Overall, we can see that the Q1 private residential property index increased to 161.6 points, an increase of 4.6 points from the Q4 of 2020.
Landed Property prices in Q1 have seen a rise by 5.6%. A significant increase since the 1.6% fall in the last quarter. 
Non-landed properties prices on the other hand are up 2.1%, as compared to the 3% increase in the Q4. Whereby prices of non-landed properties in the RCR went up by 6.1%, followed by the increase of 0.9% in the OCR. Non-landed properties in the CCR, however, saw a decrease in 0.3% this quarter.
COMPARISON OF PROPERTY PRICE INDEX FOR 4TH QUARTER 2020 AND 1ST QUARTER 2021
 
Price Index1
% Change over Previous Quarter
4Q/20
1Q/21
4Q20
1Q/21
All Residential
(1Q09=100)
157.0
161.6
2.1
2.9

Landed 
Property

173.8
183.5
-1.6
5.6
Non-landed
Property
153.3
156.5
3.0
2.1
CCR2/
133.6
133.2
3.2
-0.3
RCR3/
160.6
170.4
4.4
6.1
OCR
183.6
185.3
1.8
0.9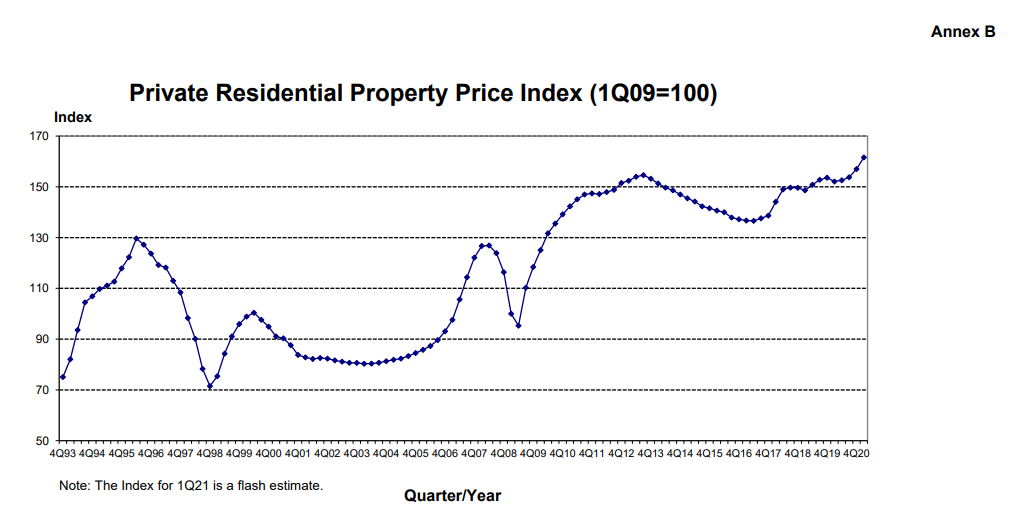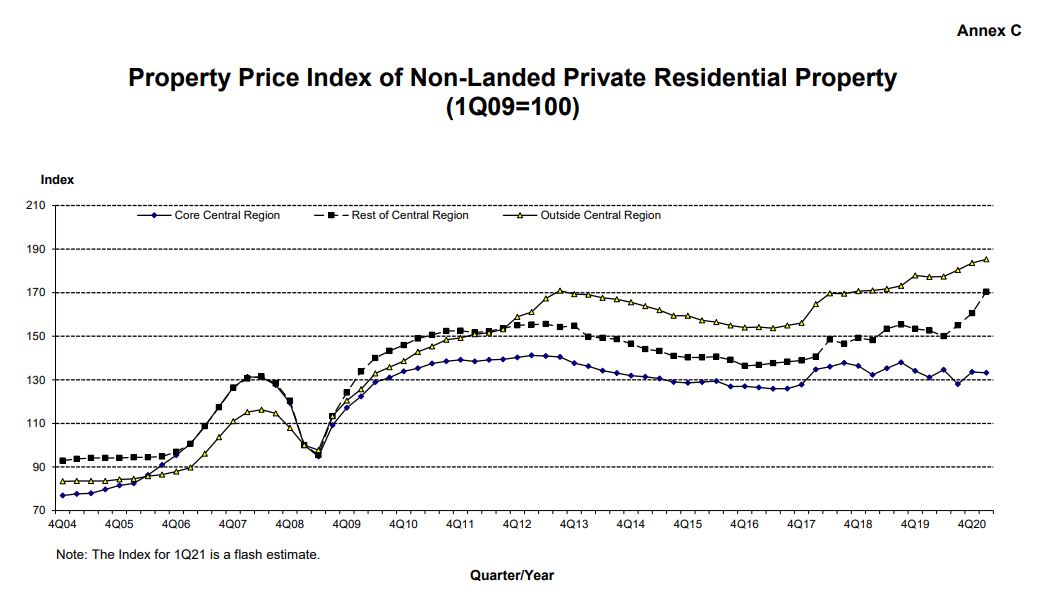 (Source: URA Media Release)