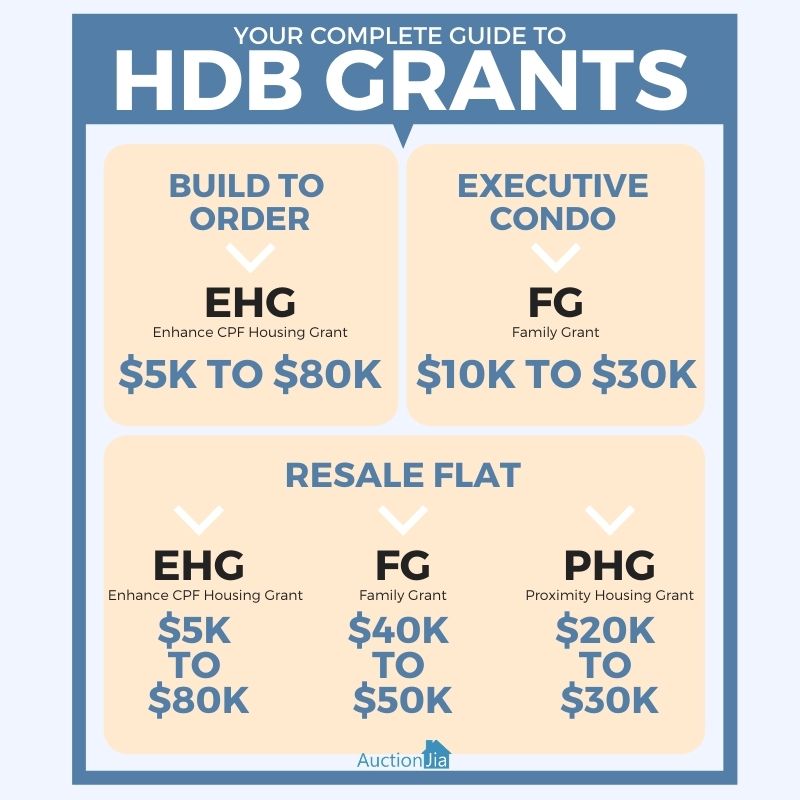 So you're looking to purchase your very first HDB flat. You probably have a million questions running through your mind. How much money do I need to buy a flat? What grants can I apply for? Are there any income ceilings for HDB grants? Well, we're here to help answer all your questions when it comes to HDB grants.
Before you think about what grants you're eligible for, you first need to decide what type of flat you are looking to buy. Are you looking to buy a Build To Order (BTO), a resale flat or an Executive Condo (EC). The answer to this question is your starting point. 
In this article, we will be breaking down all the HDB grants that are available categorised under what type of housing you are applying for. Let's start with the basics, BTO. 
*Something to take note: grants do change from time to time so make sure to cross check with the HDB website. This article is accurate to date.*


HDB Grants For BTOs
Before we talk about the grants available, let's get into the HDB income ceiling for BTOs. The current income ceiling for BTOs generally is $14,000. However it can differ for the types of flat that you choose. For example, the income ceiling for a 2-3 room flat can go as low as $7,000 and the income ceiling for larger flats like multi-gen flats can go up to $21,000. Now let's get into the grants!
The grant available for couples or families who choose to BTO is the Enhanced CPF Housing Grant (EHG). This grant ranges from $5,000 to $80,000. The HDB income ceiling for this grant is $9000. This means that if you and your spouse are looking to apply for this grant, your max total income combined should not exceed $9000. 
Singles above 35 years old are also able to qualify for this grant. However for singles, the income ceiling and grant range is halved. So a single with a monthly income of no more than $4,500 can apply and the grant range would instead be $2,500 to $40,000. This is also the same for Singaporean citizens with a foreign spouse. 
Why does the grant range vary so much? This is to help lower and middle class families afford a home. The lower your income ceiling, the higher the grant you get. 
Total max grant for BTO = $80,000

HDB Grants For Resale Flats
Once again, before we get into the grants let us just quickly put it out there that there isn't any HDB income ceiling when it comes to resale HDB flats. Yay!
As for the grants, resale flats come with 3 types of grants that you can apply for. These grants can be stacked. These include the EHG (as explained above), Family Grant (FG) and Proximity Housing Grant (PHG). 
The EHG for resale flats work the same way as it does for BTO. Everything from the HDB income ceiling to the grant range still applies when you look to purchase a resale flat. 
The FG on the other hand is for first time buyers. To be more specific, first time couples or families who are looking to buy a resale flat. Unfortunately, singles do not fit the criteria for this grant, however, there is an equivalent grant called the Singles Grant (SG) for first time singles buying a resale flat. The SG works the same as the FG, just halved, like we saw in the EHG for singles. 

The income ceiling is a little different for the FG. For first time couples, your max joint monthly income must not exceed $14,000. An exception is made for extended families (including siblings and parents) whereby the household joint income should be no more than $21,000. The amount you get for this grant depends on the size of the flat you purchase. For 2-room to 4-room flats, the grant is $50,000. For flats of 5-room and up, it is $40,000. 
One thing to keep in mind is that this grant can get affected by the citizenship status of your spouse. A Singaporean citizen with a Permanent Resident (PR) spouse is still eligible for the FG but the amount of the grant you get is $10,000 less. However, when your PR spouse becomes a Singaporean citizen, you can get back the $10,000. A Singaporean citizen with a foreign spouse on the other hand cannot apply for the FG but can instead apply for the SG with a max total income of $14,000.
Moving on to the PHG. The PHG is basically a grant to keep families together. To be eligible for this grant, the resale flat that you are buying has to be with or within 4km of your parents or in-laws. This grant can be applied by anyone, you don't need to be a first time applicant, or part of a couple or family. Singles can also take advantage of this grant, but the grant is again halved for singles. The only drawback is that this is a one time grant. Once you receive this grant, you will not be eligible for the same grant for the purchase of a subsequent home. 
The type of resale flat that you can purchase with this grant is any size of 2-room or bigger as long as it has a minimum of 20 years left in the lease. So how much can you get from this grant? If you choose to live in with your parents or in-laws, you will receive a grant of $30,000. If you choose to live within 4km of your parents or in-laws, you will receive a grant of $20,000. 
Total max grant for resale = $160,000


HDB Grants For Executive Condos
The HDB income ceiling for ECs is $16,000. So make sure to be weary of this before you decide on purchasing an executive condo. Now moving on, the only grant applicable for ECs is the FG. However for ECs, the FG works a little differently with different sets of rules. For instance, the income ceiling and amount of grant. First time couples or families can apply for this grant as long as their max household income doesn't exceed $12,000, a lower income ceiling as compared to the FG for resale flats. The grant amount for resale flats are fixed while FG for ECs come at a range of $10,000 to $30,000 depending on your joint income. 
FG for ECs can also get affected by multiple reasons. Firstly, this grant is not eligible for singles. Secondly, if you have a foreign spouse, you are also not eligible. Thirdly, if your spouse is a PR, you can apply for the FG as long as your joint income ceiling is capped at $11,000. Again, your grant will be reduced by $10,000, which can be reimbursed to you later on when your spouse becomes a Singaporean citizen or when you have a child. Fourthly, if you are both Singaporean citizens but one of you is not a first timer, you can still qualify for the FG but your grant will be halved. 
Total max grant for EC = $30,000
If you are already looking for flats, why not try out our "HDB Transaction Prices" tool. This will allow you to find out how much the flat you are interested in is worth. Simply click the area you are looking at, the street, block and HDB type (4 room/5 room/etc) and voila. You will find the price the flat was bought at, the price their neighbours bought their flat or sold their flat at. This will help you to make a better decision when you make your offer price to the seller. 
To access our free HDB Transaction Prices Tool, you may click the button below!