With the URA's release of its 3rd Quarter 2020 real estate statistics, we can learn that the private residential property index has increased since the 2nd Quarter. This increase can be seen in the table below. The increase of 1.2 points from 152.6 points in 2Q 2020 to 153.8 points in 3Q 2020 represents an increase of 0.8%, compared to the 0.3% increase in the previous quarter.
Specifically for condominiums (non-landed private residential properties), there was a strong performance in prices of condos in the Rest of Central Region (RCR) and Outside Central Region (OCR), while there was a sharp decline in the prices of condos in the Core Central Region (CCR). Prices in RCR increased 3.3%, compared to the 1.7% decrease in the previous quarter, and the prices in OCR increased by 1.7%, compared to the 0.1% increase in the previous quarter. Prices in CCR however has decreased by 4.9%, compared to the 2.7% increase in the previous quarter. This can be seen in the third chart below. 
COMPARISON OF PROPERTY PRICE INDEX FOR 2ND QUARTER 2020 AND 3RD QUARTER 2020
 
Price Index1
% Change over Previous Quarter
2Q20
3Q20
2Q20
3Q20
All Residential (1Q09=100)
152.6
153.8
0.3
0.8
Landed Property
170.3
176.8
0.0
3.8
Non-landed Property
148.7
148.7
0.4
0.0
CCR2/
134.6
128.0
2.7
-4.9
RCR3/
150.0
155.0
-1.7
3.3
OCR
177.4
180.4
0.1
1.7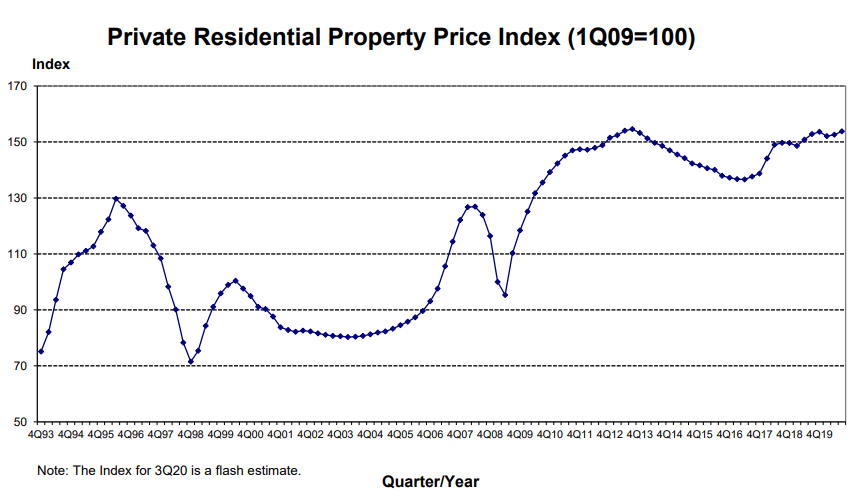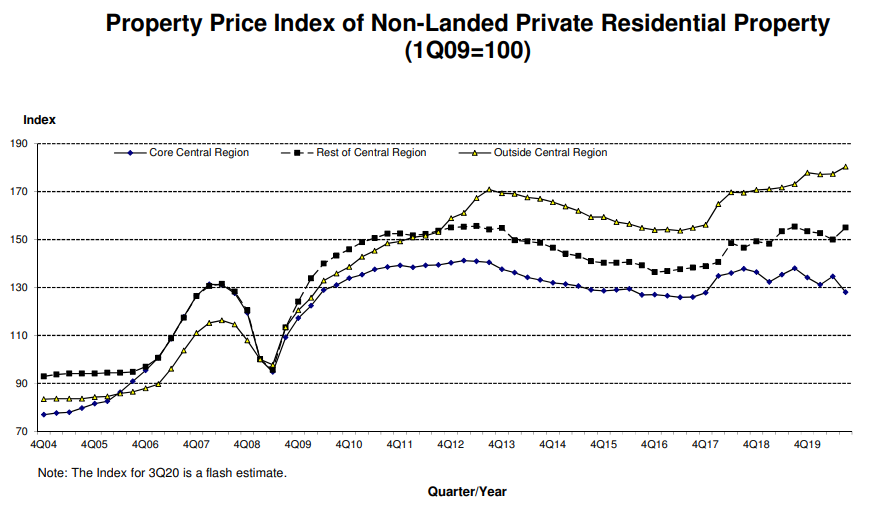 As property values increased 0.8% since the last quarter, many may start to wonder how could this be? 
At first, analysts had forecasted that property prices were estimated to decline as much as 6%, but now they are saying that prices might actually rise as much as 1.5%. While Singapore undergoes its worst recession, the Financial Times foresees the economy to shrink 7% during this Covid-19 pandemic. So how is it possible that the property market is increasing? Well, this is thanks to low interest rates and government stimulus that has kept the property market resilient.
Since the rise of the pandemic, the government has released more than S$100 billion of stimulus to help Singaporeans cope financially. The Covid-19 stimulus packages comes in many forms; the Unity Budget, Resilience Budget, Solidarity Budget and Fortitude Budget. Each of these aim to support businesses and employees (including self-employed freelancers, individuals who have lost their jobs, tenants, SMEs, and even some large businesses) who were severely impacted by the pandemic. Directly or indirectly, you may have benefited from the Jobs Support Scheme, Self-Employed Person Income Relief Scheme, Workfare Special Payment, SGUnited Traineeships, deferment of income tax payments, property tax rebates, rental waivers (the full list of schemes is too long to name it all!), etc and we are grateful for the help provided by Singapore Government. 
The other factor is the plunge in interest rates. SIBOR rates have declined dramatically during this COVID period, as governments around the world launch unprecedented monetary stimulus. One month-SIBOR is now at 0.25% vs ~1.9% in late 2019. Correspondingly, banks have reduced their home loan mortgage packages in Singapore. This allows home owners to refinance their existing mortgages (if out of lock-in period), reducing the amount of monthly interest payments, providing home owners with greater holding power through this COVID pandemic.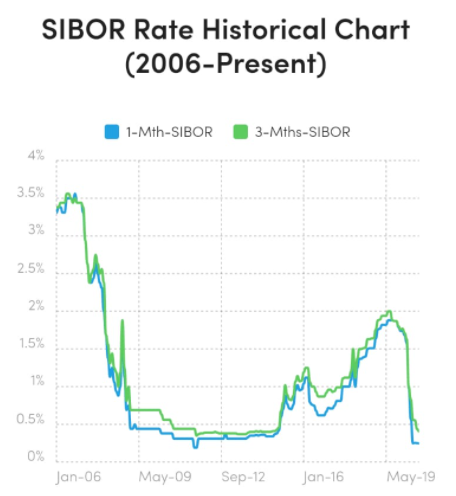 (Source: URA Media Release)