Has COVID-19 impacted property prices in Singapore? We get the first glimpse based on flash estimates released by Urban Redevelopment Authority (URA), which shows Singapore that residential property prices are down 1.2% in 1Q20. This marked a reversal compared to the increase of 0.5% in 4Q19.
Landed properties fell the most, by 1.7% compared to the previous quarter. For non-landed properties, the Core Central Region (CCR) has declined the most, with a drop of 1.5%. This is followed by the Outside Central Region (OCR) with a decline of 1.0%. Prices in the Rest of Central Region (RCR) were the most resilient, with a marginal decline of 0.5%.
Will we see further declines this year, given the severity of the COVID-19 outbreak in Europe and US? The chart below shows property prices over a much longer period, to provide readers with a sense of where we are in the cycle, and what happened during the Global Financial Crisis in 2008-09.  
Thinking about selling your property and considering your options? Speak to us today. We are seeing a significant increase in buyers approaching us at this time!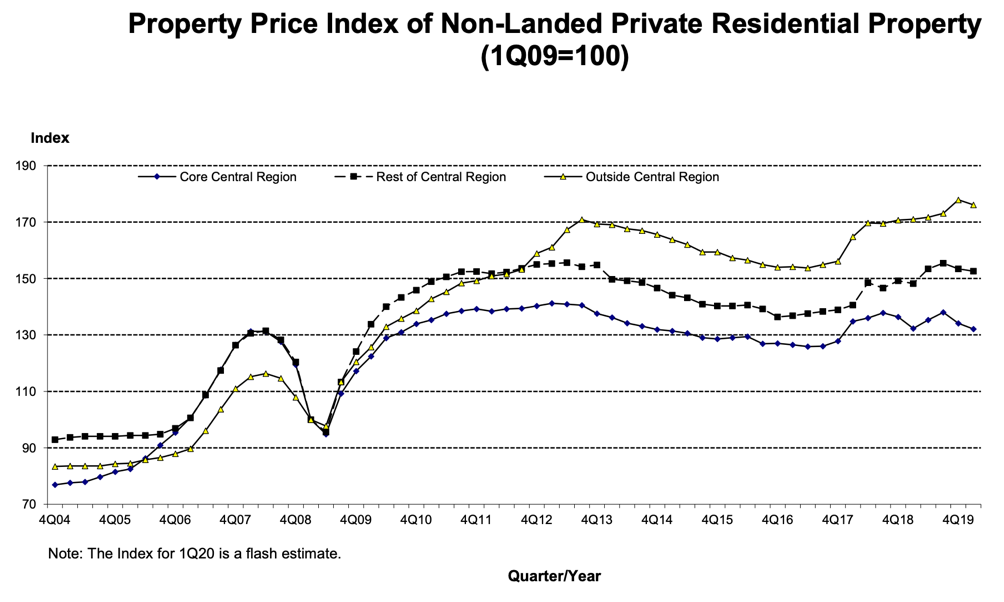 Chart 1


Note: The flash estimates on Chart 1 are compiled based on transaction prices produced in contracts submitted for stamp duty payments and data on units sold by developers till mid-March. Flash estimates and actual price changes could be different, hence readers are advised to interpret the flash estimates with caution.